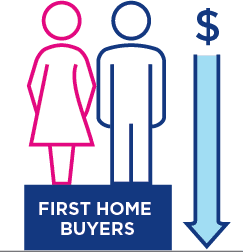 What is the First Home Loan Deposit Scheme?
The Australian Government is introducing a First Home Loan Deposit Scheme (FHLDS) to support eligible first home buyers purchase a home sooner. It does this by providing a guarantee that will allow eligible first home buyers on low and middle incomes to purchase a home with a deposit as little as 5 per cent. Please note, the guarantee is not a cash payment.
This means there will be no lender's mortgage insurance cost to worry about. This is because under the scheme, the government will guarantee the 15% shortfall, effectively eliminating this extra cost. That's a substantial saving and you may be able to buy your home much sooner. The guarantee will stay in place until you have paid out your loan or refinanced.
The FHLDS will support up to 10,000 first home loan guarantees each financial year offered on a first-in-first served basis. Did you know, around 110,000 first home buyers (FHBs) entered the market in 2018, which suggests this scheme will only have a marginal effect in making first home ownership easier. Eligible borrowers can use the guarantee in conjunction with other government programs like the First Home Super Saver Scheme (FHSSS), state and territory First Home Owner Grants and stamp duty concessions.
On a side note, the federal government's FHSSS allows you to save for your first home through your superannuation account. You can save up to $15,000 a year (a limit of $30,000 overall) and withdraw it when you buy your home. This can be more tax effective than saving outside super and your money is locked away until you buy your home or retire, so there's no temptation to spend it.
When does the FHLDS start?
The FHLDS will start on 1 January 2020.
Who is eligible for the scheme?
Australian citizens who are at least 18 years of age. Permanent residents are not eligible.
Singles with a taxable income of up to $125,000 per year and couples with a taxable income of up to $200,000 per year. Incomes will be assessed for the financial year preceding the financial year in which the loan is entered into.
Couples are only eligible for the scheme if they are married or in a de-facto relationship. Other persons buying together, including siblings, parent/child or friends, are not eligible for the scheme.
Applicants must have a deposit of between 5 and 20 per cent of the property's value.
Loans under the scheme require must be for 'principle and interest' repayments for the full period of the agreement.
If the loan relates to the purchase of vacant land for the construction of a house on the land, the loan may be an eligible loan even if the terms of the loan agreement permit interest-only repayments for a specified period.
Applicants must intend to move into and live in the property as their principal place of residence (i.e. they must be owner occupiers).
Applicants must be FHBs who have not previously owned or had an interest in a residential property either separately or jointly with someone else (this includes residential strata and company title properties, regardless of whether it was an investment or owner-occupied property and whether it was ever lived in).
Do property price thresholds apply?
Yes, the purpose of the scheme is to help in the purchase of a modest home and the value of the residential property must not exceed the price cap for the area in which the property is located. The price cap for capital cities, large regional centres and regional area are:
| | | | |
| --- | --- | --- | --- |
| State/territory | Capital city & regional centres | Rest of state | |
| NSW | $700,000 | $450,000 | |
| VIC | $600,000 | $375,000 | |
| QLD | $475,000 | $400,000 | |
| WA | $400,000 | $300,000 | |
| SA | $400,000 | $250,000 | |
| TAS | $400,000 | $300,000 | |
| ACT | $500,000 | – | |
| NT | $375,000 | – | |
The capital city price thresholds apply to regional centres with a population over 250,000 (e.g. Geelong in Vic), recognising that dwellings in regional centres tend to be significantly more expensive than other regional areas.
How do I apply?
Borrower applications and questions will be managed through a panel of participating lenders (NAB and CBA are allowed to receive up to 50 per cent of the 10,000 guarantees allocated per financial year, the rest via non-major lenders) accessible on the NHFIC website – www.nhfic.gov.au/what-we-do-fhlds
Once the scheme commences, applications will be lodged through participating lenders and their brokers. NHFIC will not accept applications directly.
To find out more about the application process, please visit the NHFIC website at www.nhfic.gov.au .