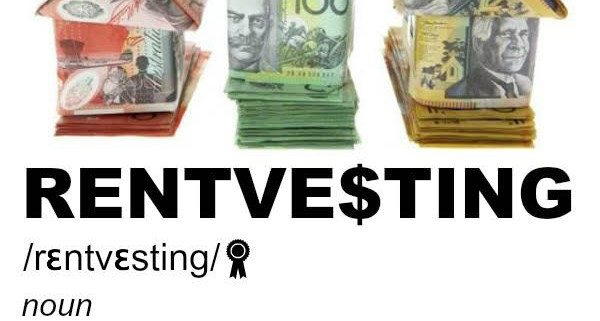 Rentvesting. It's a whole new world in today's popular culture, but it also represents a revolution in home buying strategy, particularly for first home buyers and those struggling to move up the property ladder. But what is it? And what are the benefits?
What is rentvesting?
Everyone agrees that buying your first home is becoming increasingly difficult. The struggle to save up a deposit for your first property purchase is getting harder every year. The reality is that the longer you wait to buy a property, the more difficult it may become to save a deposit or borrow enough money to be able to afford to buy it.
For many people, being able to afford to buy a home in a location where they actually want to live is making the challenge more difficult still. With most of the affordable homes often located in new suburbs or outer suburbs, finding a place you can afford to buy near your work, family or required lifestyle amenities can be completely out of the question.
'Rentvesting' is a new buying strategy that's recently emerged in response to these issues. It entails purchasing your first property as an investment rather than a place to live. Rentvestors typically purchase a property that meets their budget in a location they can afford, then rent a home in a location where they would prefer to live and work. It is frequently more affordable to rent a home in a popular location than it is to buy it, and this basic financial fundamental is what's behind the rentvesting revolution.
Technically, you don't have to be renting somewhere to be a 'rentvestor'. The term also applies to many Gen Y first home buyers. This class of 'rentvestor' is typically living at home with mum and dad to reduce their living expenses whilst they save up a deposit for a property purchase. These savvy property buyers may continue to live at home with mum and dad even after they've purchased their first property, and perhaps even after they've purchased their second.
What are the benefits of rentvesting?
The primary benefit of the rentvesting strategy is that it allows you to get into the property market sooner. As every successful property investor will tell you, the sooner you get into the property market, the sooner your property can start generating capital gains and the sooner you can start to build wealth.
The beauty of this strategy is that in a rising market, you may soon have equity you can use to purchase a second property that's also in an affordable location. Again, it probably won't be a property you want to live in, but you'll have two properties gaining equity as home values rise (potentially), two sets of tenants paying down your mortgages for you, and greater tax advantages as well.
Research is the key to a successful rentvesting strategy
Buying an investment property first means that you won't have to compromise on the location when you make your purchase. This can also mean you can make investments that may return you the greatest capital gains. You can literally restrict your property searches to properties that meet your buying criteria of price, affordability and capital growth potential – a luxury that most owner occupier first home buyers simply don't have.
For more information about rentvesting, or for an informal chat about your plans with no obligation, please give us a call today. We'll be happy to help you start rentvesting if it's the right solution for you.
If you haven't already, click on any of the below links to download our FREE E-Book or email us instead and we'll send it to you within 24 hours.