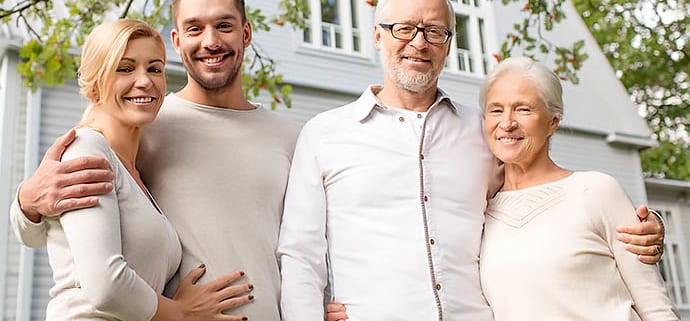 The property market downturn has been a gift for first home buyers (FHBs). That's giving FHBs some real buying power. But a helping hand can still be essential to get a foot on the property ladder, and there are plenty of ways parents can get involved.
Know the basics
As a FHB, a key rule of thumb is to understand where you stand in terms of your buying power at an early stage. It may not be necessary, for example, to have a 20% deposit.
These days, there are no lenders on our panel that offer no-deposit home loans, but there are some that may accept just a 2% – 5% deposit.
While low deposit loans can be the gateway to buying a place of your own sooner, you will have to pay the one-off cost of 'lenders mortgage insurance' (LMI), which can get as high as $30,000 depending on your purchase price and size of your small deposit. LMI protects the lender, not you, if you can't keep up the repayments. So, it's definitely an expenses worth minimising.
You can minimise the LMI cost by providing a larger deposit or lowering your purchase price.
There's a reason why the 'bank of mum & dad' has become a well-known catchphrase. Increasingly we're seeing more young buyers receiving help from their parents to get their foot in the door.
Let the kids live at home
Parents can consider letting their kids live with them board free or for a low board amount. This will provide the opportunity for FHBs to supersize their deposit sooner rather than later.
Cash gift
With a cash gift, the lender needs to understand that there is no expectation that the cash needs to be repaid. Usually a letter from your parents stating this will suffice.
However, FHBs still need to show a strong record of savings, usually spanning three to six months to prove capacity to repay the proposed home loan. In addition, the lender may require the cash gift to sit in the kids savings account for at least three months.
For older parents or grandparents, bear in mind that handing out gifts of cash can impact age pension entitlements. Pension recipients can only gift up to $10,000 per financial year, or up to $30,000 over a five-year period, to stay within the gifting-free rules.
Loan from mum & dad
This is certainly another option for FHBs, but if it is deemed a loan then the repayments will need to be factored into the FHBs borrowing power and will impact it in a negative way, sort of like a double-edged sword.
Parents can act as guarantor
One of the least stressful ways for parents to assist FHBs is to act as guarantor for all or part of the loan. A guarantee works by using the equity in a parent's home to provide additional security for your first home. No cash changes hands. Parents don't have to guarantee the whole mortgage. If you have saved a 10% deposit, the parents could guarantee just 10% of the loan to help avoid lenders mortgage insurance (LMI).
A guarantor can be released once the FHB has built up sufficient equity – either by making additional repayments or through an increase in the property's value.
Some lenders offering this 'family pledge' style home loan allow FHBs to borrow up to 100% of the purchase price plus costs such as stamp duty and legal fees. Another of our lenders will allow a FHB to go beyond this and provide up to an additional $50,000 for proposed home renovations also. Remember, the buyer still needs to be able to prove they can repay the loan. Put simply, your income and expenses still go a long way to shaping your eligibility for a loan.
Downsides for guarantors
There are risks for parents acting as guarantors. The guarantor's ability to borrow money for their own needs can be severely impacted. In addition, if the FHB cannot maintain the repayments, the lender will turn to the guarantor to make good with the loan or the portion they have agreed to guarantee.
For parents heading into retirement this can represent a significant risk. They could be putting their financial wellbeing on the line for an adult child. This explains why most lenders often ask that guarantors seek independent legal advice so that they know exactly what they're signing for.
Perhaps a fridge instead
If the above methods seem all too hard or risky, the parents could help out by chipping in for stamp duty, legal fees or even other items that need to be bought for the new home like furniture or whitegoods.
Ultimately, it's about what works for you as a family, taking into account the needs and risks of everyone involved.