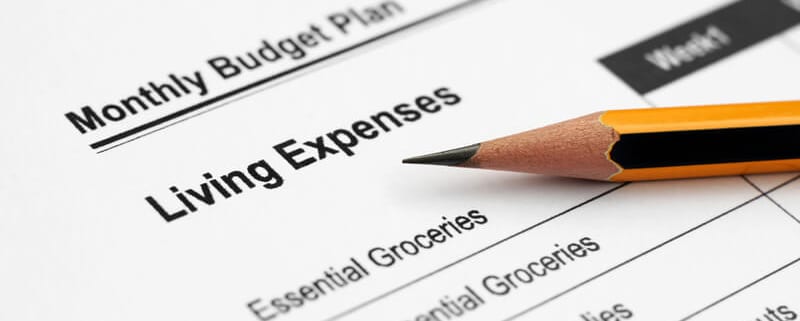 You may be surprised to discover that how much you spend on day-to-day living can considerably reduce the amount you are eligible to borrow, even if you are a high-income earner. So, if you're planning to obtain a home loan for whatever purposes, it may be time to cut back on some of life's little luxuries and set yourself a strict weekly budget. Here is why?
Why do living expenses matter?
Under the National Consumer Credit Code Protection Act (NCCP), Finance Brokers and lenders are required to meet responsible lending guidelines. These guidelines are designed to ensure a borrower can afford to make the repayments on their loan without suffering substantial hardship.
That means by law, a Finance broker or lender must ensure that you have plenty of money left over from your income to repay your loan after you have covered your regular financial commitments. So, we must perform a thorough living expense and income assessment to determine your true financial position before you can apply for a home loan.
What are living expenses?
A living expense is anything you spend your money on. It could be a $500 monthly payment for your personal trainer, the $5 coffee you buy every morning on the way to work and everything else in between. The problem here is, most of you don't know how much money you spend every month on your living expenses.
Tips for controlling your expenses
Our budget planner is a great way to see where your money is going. It's available free to download by clicking here.
How do we perform a living expense assessment?
As your Finance Broker, we will provide you with a 'living expenses' template to help you figure out your monthly living expenses. It divides them into simple categories, so it's easy to see that you've remembered to include absolutely everything. These categories include:
Child care: Everything from formal day care costs for each child, to nannies and occasional babysitters.
Personal care: All clothing, footwear, cosmetics and personal hygiene products, hair dressing, manicures and massages etc.
Education: Educational costs/fees for yourself and any children, including books, uniforms, equipment and excursions.
Groceries: This includes meat, fruit, vegetables and anything else you might buy at a supermarket, like toilet paper and cleaning products.
Insurance: This includes all personal insurance like health, home and contents, life, income protection and pet insurance.
Medical: This section is specifically for health care costs like doctors, dental care, optical and pharmaceutical prescriptions.
Utilities / home expenses: Gas, water, electricity, rates, taxes and levies, and any other costs for running your own home.
Entertainment: Recreational expenditure like take away food, dining out, movies, gifts, club memberships, pet care, holidays and hobbies.
Communication: Includes expenses like mobile phone plans, pay or cable tv, internet, house phone, personal magazine subscriptions.
Transport: For public transport costs, petrol, car registration, car insurance, car parking, car servicing and maintenance.
Rent: This is for rent on a property where you live, board (if you are living at your parent's home or renting a room), or similar housing costs.
Other: Any regular living expense which is not covered by the above categories.
Investment property expenses: Costs you are responsible for paying – council rates, property management fees, taxes and levies, body corporate/strata fees, maintenance etc.
FAQs about your living expenses
Is rent a living expense? It may be one of your current expenses but we need to also look at your ongoing expenses after loan drawdown, so, if you intend to buy a home to live in then this would be $0 ongoing.
How about debts? Any debts you have will be included in the liabilities section of your loan application.
How do we check all this? We are obliged to see your main transaction accounts and credit card statements for the past 1 -3 months, so we can check your spending matches your declared living expenses amounts.
In summary
Whether you're considering purchasing your first or next home, it's important to have a solid understanding on your living expenses. Remember, a lender will only give you a home loan for an amount that it deems you can afford to repay – cutting back your everyday spending for three months could help to increase this amount and improve your borrowing power.
At Blue Key Finance, we will be happy to run through your living expenses and help you find ways to budget and save to increase your borrowing power. We'll also prepare your loan application to maximise your chances of getting your loan approved the first time.